Yuletide Cookies
2008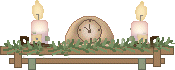 2003 Candy List

2003 Cookie List&nbsp&nbsp 2004 Cookie List
2005 Cookie List&nbsp&nbsp 2006 Cookie List&nbsp&nbsp 2007 Cookie List



Scottish Yule Bannock

1 1/2 cups flour
1/4 teaspoon salt
3/8 cup confectioners' sugar
1/3 cup finely minced candied fruit
1/4 cup finely minced toasted almonds
3/4 cup unsalted butter, cut into pieces and slightly softened
1 1/2 tablespoons granulated sugar

Preheat oven to 325 degrees. To prepare by hand: On a cool work surface, combine flour, salt and sugar; stir to blend. Add fruit and almonds, tossing to coat fruit with flour mixture. Cut in butter with pastry blender or 2 knives until mixture resembles fine crumbs. To prepare in a food processor: In work bowl of food processor, combine flour, salt and confectioners' sugar. Pulse briefly until just blended. Add fruit, almonds and butter. Pulse several times until mixture resembles fine crumbs. Press dough into 8-inch-square baking pan; sprinkle with granulated sugar. Bake until lightly browned (about 30 minutes). Immediately cut into 1-inch squares. Leave in pan 10 minutes, then place cubes on wire rack to cool.

Makes 64 cookies.





Cinnamon Stars
flourless - gluten-free

3 egg whites
8 oz. powdered sugar
1 tablespoon vanilla extract
4 drops almond extract
1 teaspoon cinnamon
14 oz. ground almonds

Whip egg whites to a peak. Sift powdered sugar and slowly add to egg whites. Set aside 3 tablespoons of egg whites to decorate cookies. Add vanilla, almond extract, cinnamon and ground almonds. Put dough into a plastic bag and roll out to about 1/4 inch. Refrigerate bag for about 15 minutes. Cut bag open. Cut out cookies with a 2 inch star shaped cookie cutter and transfer onto baking pan lined with parchment paper. Brush cookies with egg whites Bake at 250 F for approximately 15 minutes. Reduce temperature to 210 F and bake for another 30 minutes.

The brushed egg whites should remain white. (approximately 40 calories per cookie).

Tip: You can use ground hazelnuts instead of ground almonds.

(yield 80 pieces)





Chocolate Peppermint Pinwheel Cookies

1 batch Sugar Cookies, recipe follows
3 ounces unsweetened chocolate, melted
1 teaspoon vanilla extract
1 egg yolk
1 teaspoon peppermint extract
1/2 cup crushed candy canes or peppermint candies

Divide the dough in half and add chocolate and vanilla to 1 half and incorporate with hands. Add egg yolk, peppermint extract, and crushed candy to other half of dough and incorporate with hands. Cover both with plastic and chill for approximately 5 minutes. Roll out doughs separately to approximately 1/4-inch thickness. Place peppermint dough on top of chocolate and press together around the edges. Using waxed paper or flexible cutting board underneath, roll dough into log. Wrap in wax paper and refrigerate for 2 hours.

Preheat oven to 375 degrees.

Remove dough from the refrigerator and cut into 1/2-inch slices. Place cookies 1-inch apart on greased baking sheet, parchment, or silicone baking mat and bake for 12 to 13 minutes, rotating the pan halfway through cooking time. Remove from oven and let sit on baking sheet for 2 minutes, then move to a wire rack to cool completely. Store in an airtight container for up to 1 week.

Yield: about 3 dozen

Sugar Cookie:
3 cups all-purpose flour
3/4 teaspoon baking powder
1/4 teaspoon salt
1 cup unsalted butter, softened
1 cup sugar
1 egg, beaten
1 tablespoon milk
Powdered sugar, for rolling out dough

Sift together flour, baking powder, and salt. Set aside. Place butter and sugar in large bowl of electric stand mixer and beat until light in color. Add egg and milk and beat to combine. Put mixer on low speed, gradually add flour, and beat until mixture pulls away from the side of the bowl. Divide the dough in half, wrap in waxed paper, and refrigerate for 2 hours.

Preheat oven to 375 degrees F.

Sprinkle surface where you will roll out dough with powdered sugar. Remove 1 wrapped pack of dough from refrigerator at a time, sprinkle rolling pin with powdered sugar, and roll out dough to 1/4-inch thick. Move the dough around and check underneath frequently to make sure it is not sticking. If dough has warmed during rolling, place cold cookie sheet on top for 10 minutes to chill. Cut into desired shape, place at least 1-inch apart on greased baking sheet, parchment, or silicone baking mat, and bake for 7 to 9 minutes or until cookies are just beginning to turn brown around the edges, rotating cookie sheet halfway through baking time. Let sit on baking sheet for 2 minutes after removal from oven and then move to complete cooling on wire rack. Serve as is or ice, as desired. Store in airtight container for up to 1 week.

Yield: approximately 3 dozen, 2 1/2-inch cookies

Recipe courtesy Alton Brown http://www.foodnetwork.com/food/recipes/recipe/0,1977,FOOD_9936_25190,00.html





Date Spirals

DOUGH
1 c. white sugar
1 c. brown sugar (or 1 c. white sugar with 1/4 c. molasses)
3 eggs
4 c. flour (whole wheat or add wheat germ and bran to unbleached flour)
1 tsp. baking soda
1 tsp. lite salt
1 tsp. cinnamon

FILLING
1 lb. (or 2 1/2 c.) chopped dates
1/2 c. sugar
1 c. water

Cook filling over medium heat, stirring constantly until consistency of jam. Mix dough ingredients in order. Divide in half. Roll out each half to 1/2 inch thickness. Take cooled filling and spread over dough and roll up like a jelly roll. Wrap rolls in unwaxed paper and freeze; freeze hard. Turn frozen rolls as you slice them. Place slices on greased cookie sheets and bake at 350 degrees for approximately 15 minutes. (The time to bake depends on how thick you want to slice them.)





Norwegian Jul Cookies

1 1/2 Cups of shortening
1 1/2 Cups of sugar
1 Egg yolk and 1 whole egg
2 1/2 Cups of flour
1/2 Teaspoon of ground cardamom
1/2 Teaspoon of cinnamon
1 Cup of almonds, ground
1 Tablespoon of orange juice

Cream the shortening and sugar and add the beaten yolk and egg. Mix and sift the dry ingredients and the blanched, ground almonds together. Combine the mixtures and add the orange juice. Chill the dough, then roll thin, cut in fancy shapes and bake a few minutes at 400F. They must be watched carefully.





Peppermint Cookies

1 C. shortening
1/2 C. sugar
1/2 C. packed brown sugar
2 eggs
1 1/2 tsps vanilla extract
2 3/4 C. all-purpose flour
1 tsp salt
1/2 tsp baking soda
1/2 C. crushed peppermint candies

In a mixing bowl, cream shortening and sugars. Add the eggs, one at a time, beating well after each addition. Beat in vanilla. Combine the dry ingredients; gradually add to the creamed mixture. Stir in crushed candies. Shape into a 15-inch roll; wrap in plastic wrap.

Refrigerate for 4 hours or until firm. Unwrap and cut into 1/8-inch slices. Place 2 inches apart on ungreased baking sheets. Bake at 375º for 6-8 minutes or until edges begin to brown. Remove to wire racks to cool.

Yield: About 6 dozen





Cranberry Date Bars

1 12oz bag cranberries (3c)
1 pk 8 oz. chopped pitted dates
1/4c Water
1 ts Vanilla extract
2 c All purpose flour
2 c rolled oats
1 1/2 c Packed brown sugar
1/2 ts Baking soda
1/2 ts Salt
1 c Butter or margarine melted

2 c sifted Confectioners sugar
2 tb Up to 3 tbs. orange juice
1/2 ts Vanilla extract

In a covered saucepan over low heat, simmer cranberries, dates and water for 15 minutes, stirring occasionally until the cranberries have popped. Remove from heat and stir in vanilla; set aside. In a large bowl, combine the flour, oats, brown sugar, baking soda and salt. Stir in butter until well blended. Pat half into an ungreased 13x9 in baking pan. Bake at 350F for 8 minutes. Spoon cranberry mixture over crust. Sprinkle with the remaining oat mixture. Pan gently. Bake ar 350F for 25-30 minutes or until browned. Cool. Combine glaze ingredients; drizzle over bars.

yields: 2 dozen cookies





Pfeffernüsse

¾ cup light molasses
½ cup butter
2 beaten eggs
4¼ cups flour
½ cup splenda or stevia (or sugar)
1¼ tsp. baking soda 1½ tsp. ground cinnamon
½ tsp. cloves
½ tsp. nutmeg
1/8 tsp. fine ground black pepper
4 cups powdered confectioners sugar

In saucepan, combine molasses and butter. Cook and stir until butter melts. Cool to room temperature. Stir in the eggs. Sift together the flour, sugar, baking soda, cinnamon, cloves, nutmeg, and black pepper. Add this mixture to the molasses mixture and mix well by hand. Chill. Shape dough into 1-inch balls. Bake the cookies on a greased cookie sheet at 375°F for about 12 minutes. Cool on rack. Roll balls in powdered confectioners sugar.

Makes about 95 cookies.





Grand Marnier Raisin Gingerbread Bars

1/4 cup Grand Marnier or orange-flavored liqueur
1 cup dark seedless raisins

2 cups all-purpose flour
1-1/3 cup packed brown sugar
2 tsp ground cinnamon
1 tsp ground ginger
1/2 tsp baking soda
1/2 tsp salt
2 large eggs
1/3 cup light (mild) molasses
8 Tbsp (1 stick) butter, melted
2 tsp vanilla extract
8 ounces cream cheese, softened
Powdered confectioner's sugar for dusting

At least one hour before baking, put raisins in a zip-top baggie and pour in Grand Marnier. Squeeze out all the air, seal and lay flat to soak, turning once after 30 minutes.

Preheat oven to 375 degrees F. Grease a 13 x 9-inch baking pan or line with foil.

In large bowl, with wooden spoon, stir flour, brown sugar, cinnamon, ginger, baking soda, and salt until combined.

In a separate bowl, combine eggs, molasses, butter, and cream cheese. Mix wet ingredients into dry ingredients, stirring only until blended. Fold in raisins. Spread batter evenly in prepared pan.

Bake until golden around edges, about 20 minutes. Cool completely in pan on wire rack. When completely cool, cut into 24 bars and dust generously with powdered sugar.

Yield: 24 bars



Pumpkin Cookies

1-1/2 cups pumpkin
1/2 cup butter
1 cup sugar
1/2 teaspoon salt
1 teaspoon vanilla
1 cup chopped walnuts
1 egg
2 cups unsifted flour
1 teaspoon soda
1 teaspoon baking powder
1 teaspoon cinnamon
1 cup butterscotch morsels

Mix all ingredients in order given. Drop by spoonfuls onto greased cookie sheet. Bake in 375F oven for 12 to 14 minutes. Raisins, pecans or coconut may be substituted for butterscotch chips.





White Chocolate Peppermint Patties

Keep your eye on these gems as they bake - they have a quick cooking time and should only take 9 minutes. Keep them in a tightly sealed container, or freeze them for longer storage.

3/4 cup all-purpose flour
1/2 teaspoon baking powder
1/2 teaspoon salt
4 ounces white chocolate, chopped into 1/4-inch pieces
1/2 cup granulated sugar
6 tablespoons unsalted butter
1 large egg
2 teaspoons pure vanilla extract
4 ounces peppermint candy, chopped into 1/3 inch pieces

Make the White Chocolate Peppermint Patties:

1. Preheat the oven to 325°F.

2. In a sifter, combine the flour, baking powder, and salt. Sift onto a large piece of wax paper and set aside until needed.

3. Heat 1 inch of water in the bottom half of a double boiler over medium heat. With the heat on, place the white chocolate in the top half of the double boiler. Use a rubber spatula to stir the chocolate until completely melted and smooth, about 4 minutes. Transfer the melted white chocolate to a 1-quart bowl and set aside until needed.

4. Place the granulated sugar and butter in the bowl of an electric mixer fitted with a paddle. Beat on medium for 4 minutes until smooth. Use a rubber spatula to scrape down the sides of the bowl, then continue to beat on medium for 2 more minutes until very smooth. Add the egg and the vanilla extract and beat on medium for 1 minute until combined. Scrape down the bowl. Add the melted chocolate and beat on medium for 1 minute until combined. Scrape down the bowl. Add the sifted dry ingredients and mix on low until incorporated, about 30 seconds. Add the chopped peppermint candy and mix on low until incorporated, about 30 seconds. Remove the bowl from the mixer and use a rubber spatula to finish mixing the dough until thoroughly combined.

5. Using a heaping tablespoon of dough for each cookie (approximately 1/2 ounce), portion 12 cookies, evenly spaced, onto each of 3 nonstick baking sheets. Place the baking sheets on the top and center rack of the preheated oven and bake for 9 minutes until lightly golden brown around the edges, rotating the sheets from top to center halfway through the the baking time (at that time also turn each sheet 180 degrees). Remove the cookies from the oven and cool to room temperature for 30 minutes. Store the cookies in a tightly sealed plastic container until ready to serve.

Based on individual serving.

Calories: 70 Total Fat: 3 g Carbohydrates: 10 g Protein: 2 g





Eggnog Thumbprints

Tender, walnut-encrusted, nutmeg-infused butter cookies are delicious vessels for a creamy, rum-flavored filling. Pipe in the filling just before serving.

Prep: 40 min Cook: 10 min per batch

3/4 cup butter, softened
1/2 cup sugar
1/4 teaspoon McCormick® Ground Nutmeg
2 egg yolks
1 teaspoon McCormick® Pure Vanilla Extract
1 1/2 cups all-purpose flour
2 slightly beaten egg whites
1 cup finely chopped walnuts

Rum Filling:
1/4 cup butter, softened
1 cup sifted confectioner's sugar
1/4 teaspoon McCormick® Imitation Rum Extract
1 to 2 teaspoons milk

McCormick® Ground Nutmeg

1. Lightly grease a cookie sheet; set aside.

2. In a large bowl beat butter with an electric mixer on medium to high speed for 30 seconds. Add sugar and nutmeg. Beat until combined, scraping sides of bowl occasionally. Beat in egg yolks and vanilla until combined. Beat in as much flour as you can with the mixer. Using a wooden spoon, stir in any remaining flour.

3. If necessary, cover and chill in refrigerator about 1 hour or until dough is easy to handle.

4. Place the egg whites and chopped walnuts in separate small bowls. Shape dough into 1-inch balls. Roll balls in egg whites, then in walnuts to coat. Place balls about 1 inch apart on prepared cookie sheet. Make an indent with your thumb in the center of each ball.

5. Bake in a 375°F oven for 10 to 12 minutes or until edges are lightly browned. Transfer cookies to a wire rack; let cool.

6. Rum Filling: In a small bowl beat butter until softened. Add confectioner's sugar and beat until fluffy. Beat in rum extract. Beat in enough milk to make spreading consistency. Pipe or spoon about 1/2 teaspoon Rum Filling into the center of each cooled cookie. Sprinkle with additional nutmeg.

Makes 40 cookies





Chocolate Cherry Cookies

1 1/4 cups butter, softened
1 3/4 cups sugar
2 eggs
1 TBS vanilla
3 1/2 cups flour
3/4 cup unsweetened cocoa
1/2 tsp baking powder
1/2 tsp baking soda
1/4 tsp salt
2 (6-oz) jars maraschino cherries, drained and halved
1 (6-oz) package semi-sweet chocolate chips
1 14-oz can sweetened condensed milk

Preheat oven to 350*F. In large bowl, beat butter and sugar until fluffy; add eggs and vanilla. Mix well. Combine dry ingredients; stir into butter mixture. Dough will be stiff! Shape into 1-inch balls. Place 1 inch apart on ungreased cookie sheets. Press cherry half into center of each cookie. Bake 8 to 10 minutes. Cool.

In heavy saucepan, over medium heat, melt chips with condensed milk; cook until mixture thickens, about 3 minutes. Frost each cookie, covering cherry. Store loosely covered at room temperature.

Makes 10 dozen cookies.

Source:Eliz






Images by