Visions of Sugarplums
2003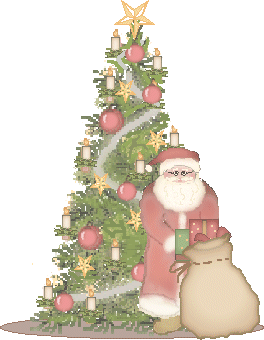 2003 Cookie List&nbsp&nbsp 2004 Cookie List
2005 Cookie List
2006 Cookie List&nbsp&nbsp 2007 Cookie List&nbsp&nbsp 2008 Cookie List




Black Forest Fudge

6 oz bittersweet (not unsweetened) chocolate, chopped
1/2 cup marshmallow creme
1 oz unsweetened chocolate, chopped
1 tsp vanilla
1 1/4 cups sugar
1/2 cup sweetened condensed milk
1/2 cup cherry preserves
1/3 cup whipping cream
1/3 cup water
1/4 cup unsalted butter
2/3 cup dried tart cherries
1/4 cup semisweet chocolate chips

Line a 9x5x3-inch loaf pan with foil. Place first 4 ingredients in medium metal bowl. Mix sugar, condensed milk, cherry preserves, whipping cream, 1/3 cup water and butter in heavy medium saucepan. Stir over medium-low heat until butter melts and sugar dissolves, occasionally brushing down sides of pan with wet pastry brush to dissolve sugar crystals. Add dried cherries. Attach candy thermometer to side of pan. Increase heat to medium-high. Boil until thermometer registers 230°F, stirring constantly but slowly, about 17 min.

Immediately pour hot syrup over chocolate mixture in bowl (do not scrape pan). Using wooden spoon, stir vigorously until chocolate melts and fudge thickens slightly but still remains glossy, about 3 min. Transfer fudge to prepared pan; smooth top. Sprinkle with chocolate chips. Chill until firm, about 3 hours. Lift fudge from pan using foil as aid. Fold down foil. Trim edges of fudge. Cut fudge into 24 pieces. (Can be made 2 weeks ahead. Keep refrigerated.) Optional: Add black walnuts (about 1/2 cup broken).









Chambord Bonbons

1 c Vanilla wafer crumbs
1 c Powdered sugar
1 c Toasted almonds; chopped
2 tb Cocoa powder
2 tb Butter
1/4 c Raspberry preserves
1/4 c Chambord or other Raspberry liqueur
6 oz German or Sweet baking chocolate; *

* grated or ground in food processor.

Combine vanilla wafers, powdered sugar, almonds, and cocoa powder in mixing bowl. Heat butter and raspberry preserves, just until butter melts. Blend into crumb mixture, along with Chambord. Chill one hour, then mold into about twenty-four 1-inch balls. Roll each ball in grated chocolate.









Chocolate Chip Cookie Dough Fudge

1/3 cup butter, melted
1/3 cup packed brown sugar
3/4 cup all-purpose flour
1/2 teaspoon salt, divided
1 1/3 cups mini semisweet chocolate chips, divided
1 pound powdered sugar
8 ounces cream cheese, softened
1 teaspoon vanilla

Line 8- or 9- inch square pan with foil, leaving 1-inch overhang on sides Lightly butter foil. Combine butter and brown sugar in small bowl. Stir in flour and 1/4 teaspoon salt. Stir in 1/3 cup chips. Form dough into a ball. Place on plastic wrap; flatten into a disc. Wrap disc in plastic wrap; freeze 10 minutes or until firm.Unwrap dough; cut into 1/2-inch pieces; refrigerate. Place powdered sugar, cream cheese, vanilla and remaining 1/4 teaspoon salt in large bowl. Beat with electric mixer at low speed until combined. Scrape down side of bowl; beat at medium speed until smooth. Melt remaining 1 cup chips in heavy small saucepan over very low heat, stirring constantly. Add melted chocolate to cream cheese mixture; beat just until blended. Stir in chilled cookie dough pieces. Spread evenly in prepared pan. Refrigerate until firm. Remove from pan by lifting fudge and foil using foil handles. Cut into squares. Store in airtight container in refrigerator. Makes 3 to 4 dozen pieces.









Double Decker Fudge

2 c. (12 oz. pkg.) Reese's peanut butter chips, divided
1/4 c. butter, melted
1/2 c. Hershey's cocoa
1 tsp. vanilla
4 1/2 c. sugar
1 (7 oz.) jar marshmallow creme
1 1/2 c. (12 oz. can) evaporated milk
1/4 c. butter

Line a 9x13x2 inch pan with foil. Place 1 cup peanut butter chips in medium bowl; set aside. In second medium bowl, blend 1/4 cup melted butter, cocoa and vanilla until smooth; add 1 cup peanut butter chips. In heavy 4-quart saucepan, combine sugar, marshmallow creme, evaporated milk and 1/4 cup butter. Cook, stirring constantly, over medium heat until mixture comes to a rolling boil; boil and stir 5 minutes. Remove from heat, immediately add half of hot mixture to bowl with peanut butter chips only. Pour remainder into cocoa mixture; stir to blend. Beat peanut butter mixture until chips are completely melted; spread evenly in prepared pan. Beat cocoa mixture until chips are melted and mixture thickens. Spread evenly over top of peanut butter layer. Cool; remove from pan. Remove foil; cut into squares. Store in airtight container in a cool, dry place. About 4 pounds.









Spiced Pumpkin Fudge

3/4 c. butter
3 c. sugar
2/3 c. evaporated milk
1/2 c. canned pumpkin
1 t. pumpkin pie spice
2 c. butterscotch baking chips
7 oz. jar marshmallow cream
1 c. chopped toasted almonds or desired nuts
1 t. vanilla

In heavy saucepan, combine first 5 ingredients; bring to boil over medium heat, stirring constantly. Continue boiling until mixture reaches 234 Degrees on candy thermometer. Remove from heat; stir in butter scotch chips and marshmallow cream until melted and smooth. Stir in nuts and vanilla. Pour into buttered 9x13 or larger pan. cool completely, cut into squares.

Makes about 3 pounds.









Sugar Free Fudge

16 oz Cream cheese, softened
2 ea Unsweetened chocolate squares (1oz each)
1/2 cup Sugar substitute
1 t Vanilla extract
1/2 cup Chopped pecans or walnuts (optional)

Melt chocolate. In a small mixing bowl, beat the cream cheese, chocolate, sweetener and vanilla until smooth. Stir in pecans. Pour into well- greased 8-inch square baking pan. Cover and refrigerate overnight.









Marbled PB Fudge

3 tblsps. butter
1 1/2 cups sugar
2/3 cup evaporated milk
1/4 tsp. salt
3/4 cup peanut butter
2 cups. mini marshmallows
1 tsp. vanilla extract
1/4 cup semi-sweet chocolate chips

Bring butter, sugar, milk and salt to a boil over medium heat, stirring constantly. Boil for 5 minutes, stirring constantly. Remove from heat. Stir in peanut butter, marshmallows and vanilla. Stir vigorously for about one minute or until marshmallows are melted. Stir in chocolate chips until fudge appears marbled. Pour into a lightly greased 8x8 inch pan; chill until firm. Makes approximately 2 pounds.









Oreo Balls

1 (8 ounce) package cream cheese, softened
4 cups crushed Oreos
2 cups vanilla or chocolate baking chips
1 tablespoon shortening
On high speed of an electric mixer, beat cream cheese until light and fluffy. Add cookies and beat until well combined. Refrigerate 2 hours until chilled enough to roll. Roll dough into 1 inch ball. Over double boiler, melt chips and shortening until smooth. Dip balls into mixture and thoroughly coat. Place on wax paper to harden. Store in refrigerator.









Chocolate Rum Raisin Fudge

1 cup Raisins
1/2 cup Dark rum
2 1/2 cup Granulated sugar
1/2 cup Butter
1 cup Evaporated milk
1 7 oz jar marshmallow creme
2 cup Semi-sweet chocolate chips
1/2 cup Chopped pecans
1 tsp Rum extract

In a small bowl, combine raisins and rum. Marinate overnight. In a large, heavy saucepan, combine sugar, butter, and milk. Cook over medium heat, stirring constantly until mixture reaches soft ball stage (238 degress on a candy thermometer, about 5 minutes). Remove from heat. Stir in marshmallow creme, chocolate chips, pecans, extract, and raisin mixture. Spread mixture into a lightly greased 10x8x2-inch baking pan. Cool and cut into squares.









Fudge Meltaways

1/2 cup butter
1 sq. unsweetened chocolate (1 oz.)
1/4 cup granulated sugar
1 tsp vanilla
1 egg beaten
2 cup graham cracker crumbs
1 cup coconut
1/2 cup chopped nuts
1/4 cup butter
1 tblsp milk or cream 2 cup sifted confectioners' sugar
1 tsp vanilla
Few drops of green food coloring
1 1/2 sq. unsweetened chocolate (1 1/2 oz.)

Melt 1/2 cup butter and 1 square chocolate in saucepan. Blend granulated sugar, 1 teaspoon vanilla, eggs, crumbs, coconut, and nuts into butter chocolate mixture. Mix well and press into ungreased baking dish, 11 1/2 x 7 1/2 x 1 1/2 inch, or square pan, 9 x 9 x 1 3/4 inch. Refrigerate. Mix 1/4 cup butter, milk, confectioners' sugar and 1 teaspoon vanilla. Add a few drops of green food coloring for color. Spread over crumb mixture. Chill. Melt 1 1/2 squares chocolate and spread over chilled filling. Chill. Cut before firm. Makes 3 to 4 dozen squares.









Rocky Road Fudge

1 1/2 Cups sugar
2 cups miniature marshmallows
1 5-ounce can evaporated milk
1/4 cup margarine or butter
1 12-ounce package semisweet chocolate pieces
1 teaspoon vanilla extract
1 10 to 12-ounce can mixed nuts

In 2-quart glass measure, cook sugar, 1 cup marshmallows, milk, and margarine on High for four and a half to six and a half minutes until melted, stirring once during cooking. Stir; cook for another one and a half minutes.
Stir in chocolate and vanilla until smooth. Fold in nuts and remaining marshmallows.
Spread in foil-lined 8" by 8" baking pan.
Refrigerate until firm. Cut into 24 pieces.






This site Copyright © 2001-2013
Hearth and Home Witchery
unless otherwise noted

Images by